SCENT: THE NEW PILLAR OF MODERN LUXURY EXPERIENCES IN A HOTEL
Perfume is an indispensable element of everyday charm. It has always been loved by the general public but also by companies (hotels, spas, retail and so on) which use it as a tool to express their personality and brand identity.
Scent Company enhances the modern luxury experience for hospitality, creating the right EMOTIONAL engagement, communication and space inside the hotel through the power of feelings evoked by the truly tailored lovely signature scent.
Recently, we have been involved in the olfactory branding project for Aqua Luxury Suites, located splendidly in the picturesque settlement of Imerovigli, in Santorini Greece. We have designed a tailored ambient scent for the luxury hotel 5*, which is diffused in the lobby through our professional scent diffusers. For a 360° olfactory branding approach, Aqua Luxury Suites has decided to go further with the creation of special tailored in-room amenities incorporating the signature scent.
---
THE SCENT IDENTITY
If you walk into one of the most exclusive luxury hotels in Santorini like Aqua Suites, the hotel has the most beautiful architecture and the most incredible design and panoramic views you have ever seen. Then you smell a fragrance never felt before… elegant, welcoming, energizing, that makes you dream
– ''that's when you are having a luxury
experience".
Smelling beautiful exclusive fragrances makes us wonder and evokes emotions and memories, including those we'd rather forget. The Aqua Luxury Suites Signature Scent really smells like somewhere you want to be.

---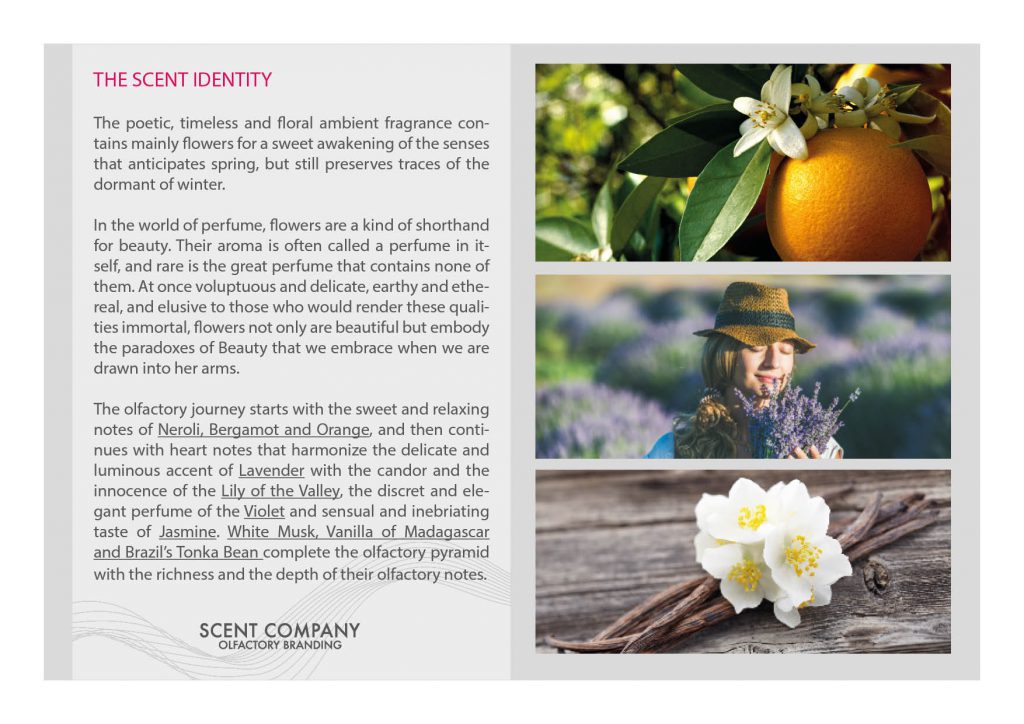 SCENT DIFFUSERS
The signature scent of the hotel is diffused in strategic areas of Aqua Luxury Suites through high-tech scent diffusers, with an exclusive technology made by Scent Company.
CUSTOM IN-ROOM AMENITIES
To incorporate the signature scent of the hotel into tailored branded scented products is a way to extend the olfactory branding project and to have a full branding approach; but above all it is really a creative way the hotel tells its story. The signature scent is incorporated into elegant branded in-room amenities, made with the utmost care and attention to detail.
---
To learn more about how Scent Company can help distinguish your chained-brand hotels from others, please contact us  – Scent Company, Bergamo – Italy email info@scentcompany.it