SPA today represents a discreet and private area where guests can live their personal relax and wellness experience, in a space suspended in time, far away from any communication with everyday life.
Exclusive treatments, unique luxury décor and customer service all help to develop a strong SPA brand. But do not forget about scent!
The design of a bespoken Signature Scent to scent and complement the interior space, tailored scented products, aromatherapy and finally the use of special aromas inside the sauna, steam and emotional showers to propel clients to new levels of relaxation.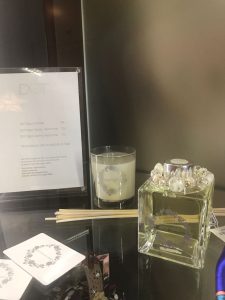 DOT.SPA  has developped a tailored Signature Scent (named INITIUM), in collaboration with Scent Company, to be incorporated into a precious Scented Collection. DOT.SPA is part of the Ticino Hotels Group, including Kurhaus Hotel, the luxury Villa Principe Leopoldo Hotel & SPA, Villa Sassa Hotel & SPA and Esplanade Hotel Resort & SPA.
The fragrance INITIUM contains mostly aromatic components coming from trees like incense, cedar wood, birch and pine.
To look at a forest or to trees is like to immerse yourself in a temple. Trees are a symbol of the beginning of life, Mother Nature, vastness, immortality, transcendence and unconscious.
Smelling INITIUM you experience vastness.
The centre of the perfume are woody notes, spiced with cinnamon and supported with a touch of Vanilla, Leather and Amber. Finally, patchouli and Greek hay give the fragrance an earthy note.
Smell is an invitation to a journey: it allows us to leave the ordinary course of things and go on a trip, to absent ourselves. Just close your eyes and try to appreciate the signature scent  "INITIUM" like something alive, vibrant, nuanced and unique.
Start to imagine and relax, just like you take the first sip of a fine wine or listen to a beautiful music.
---
Discover the fragrance "Initium" incorporated into the Eau de Parfum, Scented Candle and Rattan stick Diffuser at the reception and boutique of DOT.SPA