Custom Scented Collection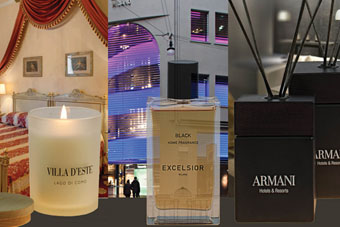 Olfactory communication offers the possibility to widen the range of products and services, thus further setting the message of welcome, and to accompany the client, therefore reinforcing customer loyalty. There are a number of applications: Hotel rooms can be personalized with the Home Fragrances, that have been designed for scenting room linen, lingerie or clothing.
The pleasure of comforting in the common spaces will be granted renewed stimuli and impulses thanks to the evocative olfactory notes coming from the scented rattan sticks diffusers, spray dispensers and scented candles. The elegant and exclusive scented décor collection, enclosing the chosen olfactory logo, can become a prestigious gift that marks a stay or a purchase, though primarily being a piece of merchandise that reinforces and wins over customer loyalty.
All these products can be offered or sold by Hotels or Stores so that the clients can carry back an unforgettable olfactory imprinting.
---
Rattan Sticks Diffusers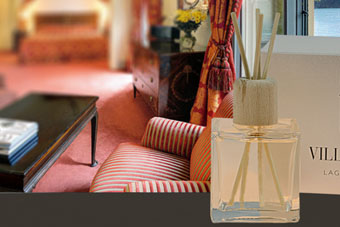 Exceptionally appreciated are the suggestive room fragrances with rattan sticks, as they allow to furnish and fragrance spaces with binding and persistent notes that evoke the olfactory logo. The customized packaging can mark common spaces with elegant and refined notes.
The olfactory notes discretely decorate the corners dedicated to reading and to conversation, they give a personal touch to hospitality desks and business areas, they build a captivating and intriguing journey, turning into a memory that guests wish to carry back.
---
Scented Candels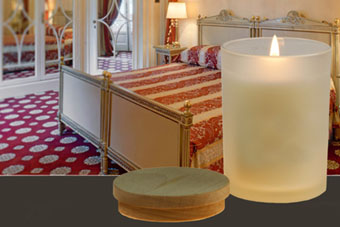 Romantic and intriguing, the soft candlelight has the power of evoking ancient charms and love spells. It fearlessly faces technology and it blends naturally with any type of interior design.
Elegant silk-screen glass or precious violet glass vases, games of light on delicate transparences or in-the-round highlight extraordinary environments and special moments with the warmth of an olfactory note that impresses in memory and that we would wish to always carry with us.
---
Home Fragrances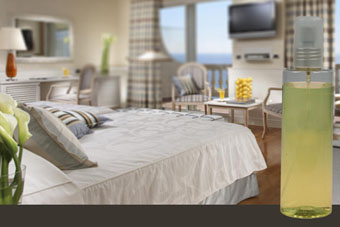 The Home Fragrances are created for those who have found their philosophy of life in the care for details. They can be employed in hotels for personalizing the rooms and welcoming the guests with the branded signature scent, as well as in retail stores for scenting interior décor and products.
The practical spray dispenser allows for the simple daily gesture of personalizing spaces, because not only does it shed in the room, but it also scents material, thanks to the specific formula that does not leave any traces or stains.
---
Room & Linen Sprays
A practical spray dispenser with multiple applications which accompanies the governess in the delicate task of making the rooms, as well as the common spaces, always perfect for the guests.
It represents an essential complement for the hotel sector, where olfactory communication is playing an evermore key role.
In the retail sector it can strengthen the brand's olfactory identity because it can be directly sprayed onto the interior décor and products.