CUSTOM SCENTED COLLECTION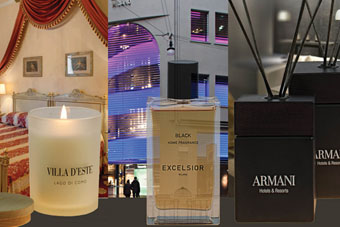 Olfactory communication offers the possibility to widen the range of products and services, thus further setting the message of welcome, and to accompany the client, therefore reinforcing customer loyalty. There are a number of applications: Hotel rooms can be personalized with the Home Fragrances, that have been designed for scenting room linen, lingerie or clothing.
The pleasure of comforting in the common spaces will be granted renewed stimuli and impulses thanks to the evocative olfactory notes coming from the scented rattan sticks diffusers, spray dispensers and scented candles. The elegant and exclusive scented décor collection, enclosing the chosen olfactory logo, can become a prestigious gift that marks a stay or a purchase, though primarily being a piece of merchandise that reinforces and wins over customer loyalty.
All these products can be offered or sold by Hotels or Stores so that the clients can carry back an unforgettable olfactory imprinting.
---
SCENT COMPANY MILANO COLLECTION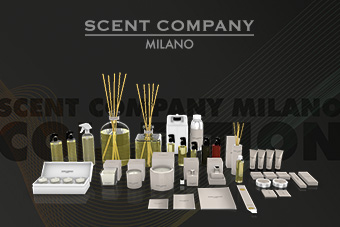 Scent Company Milano Collection is the private label or co-branding solution of exceptional quality for your brand.
We have built the Scent Company Milano brand and the Collection to be synonymous with style, elegance, personalization and top quality. It is the exclusive element to extend and enhance the Olfactory Branding Projects we design for high-end clients, luxury hotels, SPAs, wellness centers, department and flagship stores around the world.
Made in Italy, the collection merges sleek design with prestigious fragrances and includes highly desirable home fragrances, in-room amenities for hotel and SPA, aromatic essences for SPAs and other scented accessories.